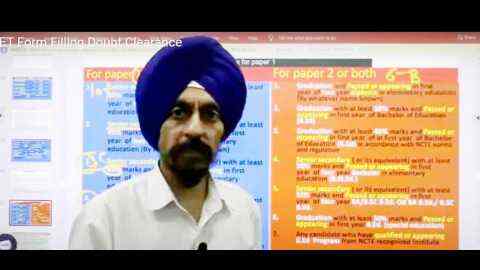 ---
Innocent Hearts College Of Education, Jalandhar Initiated Free Coaching Classes For Qualifying Ctet (dec 2022)
Nov3,2022 | Gautam Jalandhari | Jalandhar
Innocent Hearts College of Education, Jalandhar has started the online free evening classes with the aim of providing maximum eligible educators to the society by making them qualify Central Teacher Eligibility Test (CTET).
The candidates are being updated with the syllabus, eligibility criteria, scheme of examination, procedure of form filling, results in the past years and tactics for preparing and qualifying CTET by expert educationist Professor Dr. Tirath Singh. Mathematical reasoning questions, probing questions are asked during the online classes in which the candidates actively participate. They clear their subject specific doubts regarding such exams. Individual attention is given to each learner and the candidates are motivated to work hard with determination.
It is a good opportunity for the would-be teachers as training is being given for increasing mental ability, concentration, problem solving, general knowledge, teaching proficiency and language skills. Regular mock tests are a feature of these coaching classes and feedback is given to enable the would-be teachers to clear the teacher eligibility test at central level.
Principal Dr. Arjinder Singh stated that students from the low income group will also be benefitted from these free online evening coaching classes through the youtube channel "Learning to Actualize". He ensured that job aspirants are being provided with maximum skills, training and knowledge through these classes.
Innocent-Hearts-College-Of-Education-Jalandhar-Free-Coaching-Classes-Qualifying-Ctet-
---
---